joe and i decided to do a whale nursery for this little baby boy. when we had bennett, i was very anti-theme for his nursery. i didn't want it to feel gimmicky or cheesy. and it turned out super cute. BUT i wouldn't say it felt very baby-ish. this time, i'm more open to a "theme" and letting it be what it is: a nursery.
bennett's nursery was red and gray. several months ago i bought these cute bumper pads for his crib from
pottery barn kids
, thinking we'd we'd use them when we moved to the new house.
i'd never had bumpers in his crib (except those dumb breathable ones) because i was semi-paranoid about SIDS, but they look so cute that i wanted to put them in after bennett was out of the "danger zone." well, bumpers don't look as cute when you have to lower the crib all the way down so your baby can't fall out when he's standing up. so we never put in the bumpers. but i didn't return them either. they're gray and white, very gender neutral, so i figured we could use them for baby #2 whenever the time came (and i'm still semi-paranoid so as soon as this babe looks like he might be thinking about rolling over i'll probably take them out).
i love navy. if everything i owned- clothes, decor, etc.- could be navy, it would. i mean, i guess i'm a grown up so i'm allowed, but it'd be weird if EVERYTHING was navy. i digress... so when i came across this bedding at
the land of nod
, incorporating the gray we already have going (bumpers, sheets, and the walls) and my favorite color navy, i immediately sent the link to joe. he approved. as if he had a choice...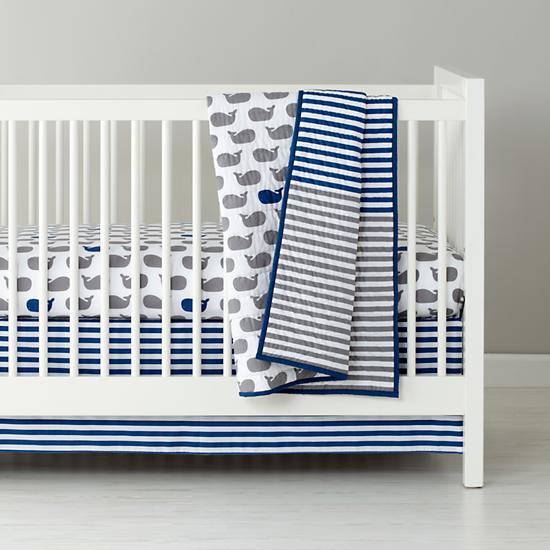 we're not quite sure yet what we're going to do about sleeping arrangements once the new babe comes along. i'm not opposed to getting bennett into a big boy bed before then, but i'm just not sure he'll be ready yet and i don't want to push him. at the same time, i'm not crazy about spending a bunch of money on a second crib... a few weeks ago at bennett's swim lesson i was talking to another mom who is also expecting her second baby this spring. she said that her sister-in-law is looking to get rid of their crib (which converts to a toddler bed) and that she'd ask her about selling it to us. i just emailed her to follow up about it today so we'll see what happens. otherwise, i guess we'll have to figure something else out! either way, i think we'll revamp (for the 3rd time, mind you!) our bedroom's dresser with some paint and use it as a changing table for the new baby. we'll let bennett keep his current crib and dresser/changing table when he moves to his new bedroom downstairs.
joe and i are probably going to be getting a new bedroom set for our room and our current dresser would look cute painted navy (perhaps something similar to this one i found on pinterest?)
we never bought a nice bedroom set for ourselves, instead opting for a hand-me-down from his parents. we're ready for our grown up bedroom set, so joe suggested we look for a black friday deal. don't have to tell me twice! i want a king, but after measuring and silently contemplating whether being able to walk around each side was really necessary (apparently it is), we decided a king is just not going to work. so we'll stick with a queen and a sleeping bag on the floor for joe.
anyway, back to the baby room.
we have a super comfy glider in bennett's room, but it's red, so that's not exactly fitting with our color scheme this time around. fortunately for us the previous owners of our house left a glider that they weren't going to use. it's a white wooden glider with denim cushions. a little '80s, but whatev. i think if
my mom
i recovered the cushions it could be super cute.
maybe something cozy like this?
i also found this adorable pillow on etsy. something like this would be cute on the glider.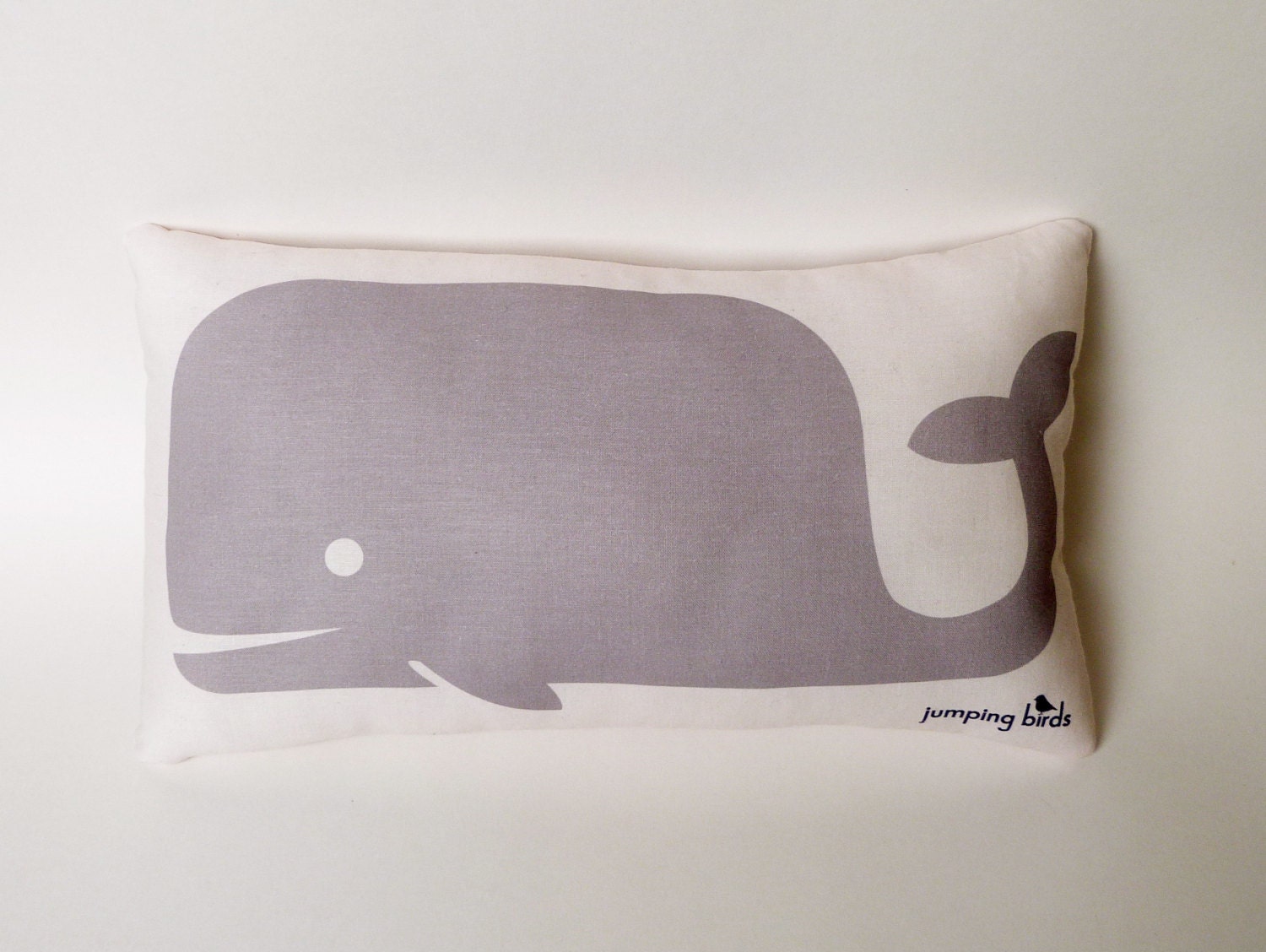 as for the walls, there are a couple bookshelves hanging in there now that we'll leave. i want to do something with the baby's name over the crib, like we did with bennett's. over the dresser/changing table though, i'm thinking a gallery wall of some kind.
well, that's about as far as we've made it. no shopping, no actual work done. we have our work cut out for us after the holidays, that's for sure. we're not only having to get a nursery put together for the new baby, but we're also needing to put a room together for bennett. now i need to find some inspiration for bennett's "big boy" room (excuse me while i lose it over how fast he's growing up...).